Robin Thicke: This Is The Singer-Songwriter Today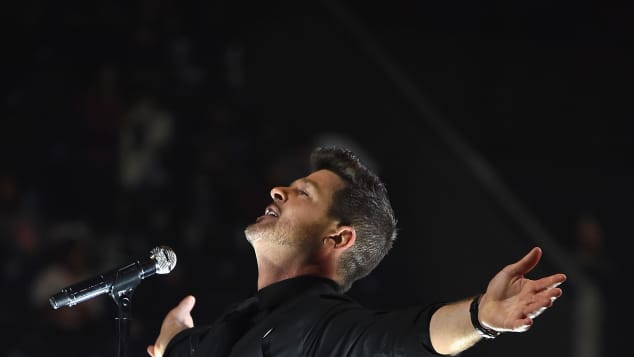 view gallery
(© Getty Images)
Robin Thicke has come a long way since his rapid rise to fame and dramatic controversy surrounding his Billboard hit "Blurred Lines". Where is he today?
Robin Thicke has learned and grown a lot from his mistakes and choices, today he is a different man. 
"Blurred Lines" Are Much More Clear Now
Robin had a few successful singles before, but his hit "Blurred Lines" with T.I. and Pharrell Williams is what really put him on the map. The song was on the Billboard Top 100 for 12 weeks! His raunchy performance of the song at the MTV Awards with Miley Cyrus, only 21 at the time, fueled major backlash against him and the song itself. 
(© Getty Images)
Not only did the song receive criticism for sexism and appropriation, it also sparked a lawsuit from Marvin Gaye's family for its similarity to one of Marvin's songs. No longer defending the song, instead explaining his intentions behind it and proclaiming "However it makes people feel, that's their right to feel that way. We have to be respectful and honor anybody who feels something negative when they hear that song." 
IN CASE YOU MISSED IT: Post Malone Says He's "Not On Drugs" After Concerns About Onstage Behaviour
From Negative To Postive, Robin Thick Is Loved On The Masked Singer
He has had a series of rough patches since his rise to fame, including losing his house in the Woolsey fires, and loosing his beloved father, Actor Alan Thicke. He has really been humbled by his experiences and has moved forward in a positive direction. Now he is a judge on the hit show The Masked Singer where he does his best to focus on the contestants strengths rather than their weaknesses. Having been beaten down by the public so much, he does his best to build up the cast and contestants as much as he can.
(© Getty Images)
Robin is now engaged to supermodel April Love Geary and the two have a newborn son. Robin still produces music, even collaborating with Nicki Minaj and Kid Cudi. We look forward to seeing what he has in store next.