He has at least 17 of them!
The Story Behind Brett Young's Tattoos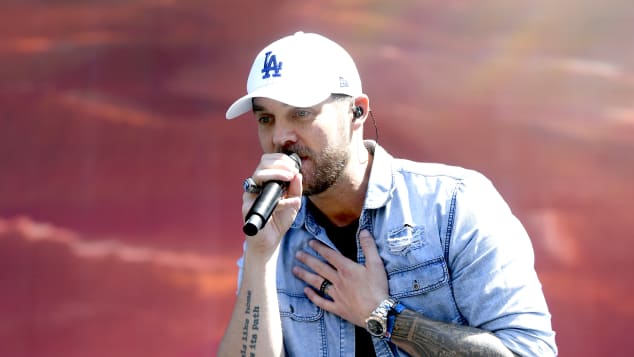 view gallery
(© Getty Images)
Brett Young's tattoos are an important part of the handsome and talented country star. Many of his tattoos are related to his music career and hold a special meaning to him. Find out the story behind Brett Young's tattoos right here.
Brett Young's tattoos are hard to miss. Lining both arms, Brett is not afraid to show off his ink, and they each hold a special meaning behind them. On his right arm, Brett wears a tatt reading "if it feels like home follow the path," which references a quote by author R.M. Drake. 
As a child Brett grew up wanting to pursue a career as a baseball pitcher and even did until an injury sidelined him early in his college career. The singer then turned to music to counsel him and his tattoo references this idea of always following your dreams. 
Brett Young Tattoos Story
In addition to his right arm tattoo, Brett Young also has a number of tattoos lining his left arm. One of the most prominent is another quote that reads "Where Words Fail." The idea is related to music being able to speak when words fail you. 
On his left arm, Brett also sports a tattoo of:
his clothing brand "Caliville"
an anchor compass
a Gibson acoustic guitar
the Santa Monica pier
the Nashville skyline
a traveling man
a vinyl record
a hummingbird
and an "11" tattoo—his old baseball number.
Brett Young's Other Body Tattoos
Brett Young also has a few other tattoos on his body. On his left shoulder, the 40-year-old sports "Jeremiah 29:11" which references the popular bible verse. The "Sleep Without You" singer also sports a "B + T" tattoo on his left ring finger.
The "B" stands for Brett and the "T" is the first letter of his wife, Taylor's, name. The happy couple married back in 2018 and now have a daughter, Presley, together with another one on the way. On his rib cage, Brett has a tattoo of his last name, and has most recently added two heartbeat tattoos for his children. 
We look forward to seeing what tattoo Brett Young will add to his impressive collection next! In the meantime check out some more cool celebrity tattoos here!