It's a night of special living room performances
Elton John To Host Coronavirus Benefit Concert With Mariah Carey, Billie Eilish And More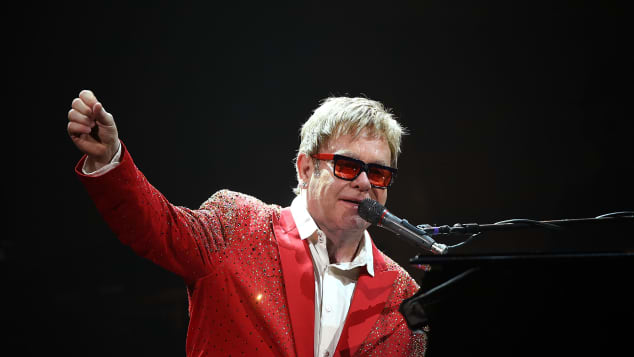 view gallery
(© Getty Images)
Fox and iHeartRadio have teamed up to present a special coronavirus (COVID-19) benefit concert. The special will air for one hour this Sunday on Fox! Elton John will host with a line-up of star singers set to perform.
"Fox Presents: The iHeart Living Room Concert for America" airs on Fox this Sunday, March 29. Elton John will host the special from his living room. Other artists scheduled to perform include Mariah Carey, Billie Eilish, Alicia Keys, Tim McGraw, Backstreet Boys, and Billie Joe Armstrong.
COVID-19 benefit concert announcement
We're paying tribute to the front line health professionals and local heroes who are helping to fight the spread of COVID-19 with our iHeartRadio Living Room Concert For America this Sunday on @foxtv. ❤️

More details: https://t.co/AagguA5Hox #iHeartConcertOnFox pic.twitter.com/aAVbdVYGyu

— iHeartRadio (@iHeartRadio) March 25, 2020
RELATED: ACM Presents Our Country Music Special with At-Home Performances (on April 5!)
Coronavirus: Elton John, Mariah Carey, Billie Eilish to perform for the benefit
The special will also feature additional artists who have yet to be announced. The performances will all come from the homes of the musicians, who will also film themselves to minimize contact with others during the quarantine period.
(© Getty Images)
RELATED: These Celebrities Are Giving Back Amid the COVID-19 Pandemic
Fox & iHeartRadio to raise money for coronavirus relief
The special concert will encourage viewers to donate to Feeding America and First Responders Children's Foundation.
"Fox Presents: The iHeart Living Room Concert for America" airs on Fox at 7 p.m. ET / 6 p.m. CT this Sunday, March 29. Tune in then for some music for a meaningful cause amid the COVID-19 pandemic. The concert itself should feature something for everyone, with, so far, artists from the rock, pop, country, R&B, and boyband music genres slated to perform.