He's a big fan of the movie, though!
'Love Actually': Liam Neeson Talks Sequel And Why He Doesn't Watch The Movie Today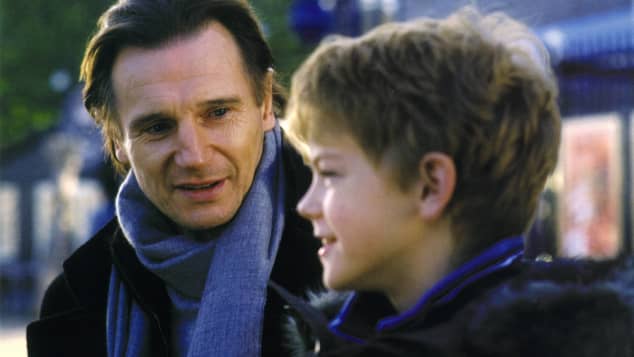 view gallery
(© imago images / United Archives)
Liam Neeson talked Love Actually during a recent appearance on a talk show with Andy Cohen. He fielded questions about a possible sequel and surprised some by saying he can't watch the movie today. Hear his comments below!
Liam Neeson appeared yesterday on Watch What Happened Live with Andy Cohen. He took a question from a caller who asked him about his thoughts on a Love Actually sequel.
Neeson offered little in response to this question, saying that the original film's director, Richard Curtis, would be the one to ask.
The Irish actor did remind viewers that the film received a short sequel - Red Nose Day Actually. Neeson reprised his role from Love Actually in the 15-minute film from 2017.
RELATED! 'Love Actually': The Cast Today
Liam Neeson in the movie Love Actually
In Love Actually, Neeson portrayed "Daniel," a widower who is raising his stepson (played by Thomas Sangster) on his own.
Neeson and Sangster's storyline is a favourite in the classic ensemble cast movie. Neeson, however, revealed that he can't watch the movie anymore!
"Not because I don't like it, I think it's a beautiful film. I really do," the actor said. It seems Neeson is among the performers who struggle with watching their performances on-screen.
RELATED: Liam Neeson and Leslie Mann Star In Trailer For Cancer Drama Film
Liam Neeson at the age of 67
Neeson went on to describe what he appreciates about Love Actually.
He specified the film's opening scene when Hugh Grant's character describes the phone calls of love that came from people on-board highjacked airplanes on 9/11. 
"You're immediately gripped. I defy anybody not to listen to that and think, 'I want to watch more of this'," Neeson said.
Watch Liam Neeson's full interview with Andy Cohen