She has her own line of hair products!
'All My Children's' "Erica Kane": This Is Susan Lucci Today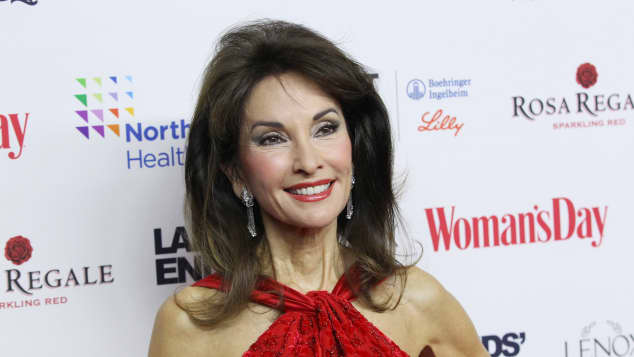 view gallery
(© Getty Images)
Susan Lucci is better known for portraying "Erica Kane" in All My Children and she has proved several times that her professional skills go beyond acting. If you have wondered what the actress has been up to since All My Children ended, we have all the details right here.
Susan Lucci was born on December 23, 1946, in Scarsdale, New York. The actress found great success in the entertainment industry, specifically with her role on All My Children. 
Best known for portraying "Erica Kane" on the ABC soap opera All My Children from 1970 to 2011, let's find out more about Susan Lucci. Her character has been considered an icon and earned her Emmy nominations for Outstanding Lead Actress in a Drama Series almost every year since 1978, winning in 1999.
All My Children: This Is Susan Lucci Now
The television show, which revolves around the intertwined relationships and secrets of several families, was cancelled in 2011 after 41 years on the air. So now we are wondering: What has Susan Lucci done since then?
What has "Erica Kane" done recently?
Susan Lucci has worked in more than 30 productions, proving that her professional skills vary from one genre to another. As an actress, her most recent work is in the 2010 American sitcom Hot in Cleveland and in the 2015 American biographical comedy-drama film Joy. 
As a voice talent, she worked in the 2018 American 3D computer-animated comedy film Ralph Breaks the Internet, and since 2012 she has been hosting the American documentary television series Deadly Affairs. Susan Lucci has been included on lists of the highest-paid-actors in daytime television and in 2005 she received a Star on the Hollywood Walk of Fame. 
A bit more about All My Children star Susan Lucci
She is happily married to Austrian producer Helmut Huber, they have been together for 35 years and have two children, Andreas and Liza
Susan Lucci has been called Daytime's Leading Lady by TV Guide
She has her own line of hair care products, skincare, lingerie and perfumes called The Susan Lucci Collection
She once said that "Erica Kane is probably the best role ever written for a woman"
She competed in Season 7 of Dancing With the Stars, her dance partner was Tony Dovolani