Brad Paisley and Kimberly Williams-Paisley Celebrate 18th Anniversary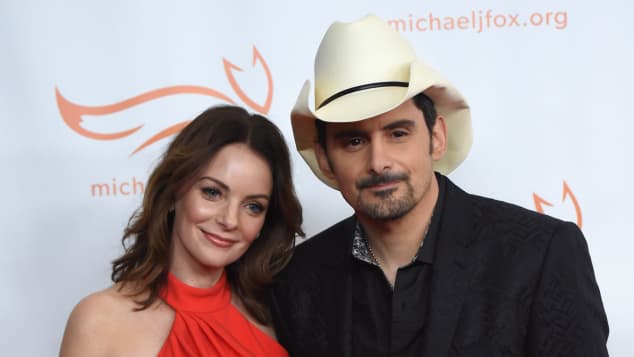 view gallery
(© Getty Images)
Country music's most fun couple are going 18 years strong! Check out Brad Paisley and Kimberly Williams-Paisley's sweet (and hilarious) celebration posts!
It's been 18 years since Brad Paisley and Kimberly Williams-Paisley got hitched! 
Brad Paisley and Kimberly Williams-Paisley's Anniversary
The Paisleys have been such an inspiring couple for 18 years now! Not only do they share their love with the countless who need it with their free grocery store The Store, but also with their fans! The duo each posted a message for the other on social media and one-half of the couple will not be happy!
Actress Kimberly Williams-Paisley posted a sweet photo of the two during the sunset with the message: "18 years I've been married to this man!! I can't believe all that's happened and all that we've done in that time. Thank you for this adventure. I love you."
Her goofy husband the "Whiskey Lullaby" singer had a different idea! BRad posted a photo of Kimberly crying! He captioned the hilarious photo with: "Happy anniversary @kimberlywilliamspaisley ! Tears of joy... right?"
The two have had one of the most beautiful love stories and 2 sons together. They are also celebrating the one-year anniversary of The Store, the Nashville-based free grocery store for those who need it. When the pandemic struck they even adjusted their business to deliver to families and the elderly! They also helped provide meals for the victims affected by the tornadoes last year.
Brad and Kimberly have great big hearts and together they do a lot of good! Check out how Brad and Kimberly are coping with the pandemic here!