She was married twice & engaged once!
Charlene Tilton: Meet Her 2 Husbands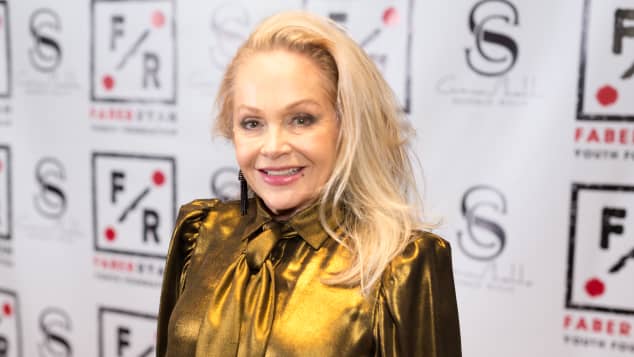 view gallery
(© Getty Images)
Charlene Tilton is best known for portraying "Lucy Ewing" on the famous soap opera Dallas from 1978 until 1991. The beautiful actress didn't always have it easy when it came to her love life... Meet her husbands here! 
"Lucy Ewing" was the staple role for actress Charlene Tilton back in the '70s, '80s and '90s. The now 62-year-old played her most recent role in the 2020 television movie A Welcome Home Christmas as "Lynn Marquee." We thought we would tell you a little more about her personal life... specifically her two husbands: Johnny Lee and Domenick Allen.
RELATED CONTENT: This is the cast of Dallas today! 
Charlene Tilton and Johnny Lee 
Charlene Tilton married country singer Johnny Lee in 1982 and they were together for only two years. During their two-year marriage, Charlene had a daughter, Cherish Lee who is actually a country singer today. Johnny Lee is now 74 years old and living in Texas. One of his most famous songs was released back in 1980 called "Lookin' For Love." He never remarried after Charlene.
Charlene Tilton and Domenick Allen
In 1985, Charlene married Scottish musician Domenick Allen. Born in Glasgow, Allen is also an actor known for his roles in Club Life (1986), Thumbelina (1994) and Outlaws (1986). Charlene and Domenick divorced in 1992 and had no children together. The 62-year-old is currently married to Leigh Zimmerman and they have a daughter named Cayleigh Allen who was born in 2000.
RELATED CONTENT: This is what Charlene Tilton is doing in 2020!
Charlene Tilton and Cheddy Hart
Charlene Tilton was engaged to cinematographer Cheddy Hart after they began dating back in 2001. Hart tragically died of heart failure in December 2009 at the age of 54. Tilton has revealed that this was one of the darkest times in her life as Cheddy was her one true love.