'Napolean Dynamite': Jon Heder's Twin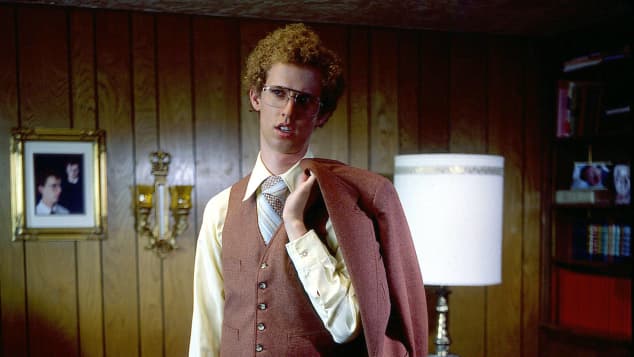 view gallery
(© imago images / Cinema Publishers Collection)
Some celebrities have famous siblings like Lily Allen and Alfie Allen, but did you know there are some famous twins? Like Napoleon Dynamite star Jon Heder! Meet his twin brother, Dan!
Can you believe that the actor behind Napoleon Dynamite is a twin? He is! Get to know, Jon and Dan Heder!
Jon Heder's Twin
Identical twin brothers Jonathan and Daniel Heder were born on October 26th, 1977, in Fort Collins, Colorado. The Heder's moved to Oregon when the boys were young and settled in Salem for many years. Eventually, Jon studied at Brigham Young University where he earned a student Emmy and met director Jared Hess.
(© imago images / Mary Evans)
The pair worked on a project together called Peluca, which was eventually expanded to be the wildly successful independent film, Napoleon Dynamite. Jon went on to host Saturday Night Live and landed more hit roles like in the films The Benchwarmers, School for Scoundrels, Ben 10, and Blades of Glory. 
Jon's twin brother Dan Heder also works in the film industry! Dan is a highly successful visualization and pre-visualization (previs) artist who organizes and visualizes film scenes on either storyboards or computer programs and animations. He has worked on some incredible films like Spiderman: Far From Home, and Avengers: End Game. 
(© imago images / PicturePerfect)
Dan Heder's Visual Artist Work
Avengers: Infinity War
Guardians of the Galaxy
The Last Witch Hunter
Poltergeist (2015 Version)
Edge of Tomorrow
Godzilla
47 Ronin
Total Recall (2012 Version)
The Secret Life of Walter Mitty
Rango
Unfortunately for Dan, he gets mistaken for his highly recognizable brother frequently. Jon even told SF Gate, "If you meet me on the street and I say, 'No, it's not him,' it's probably him. People ask, 'Can I get your autograph? And they'ss ask him and he'ss say no and it makes me look like a jerk!" Apparently, fans don't believe Dan so, "They'll say, 'Whatever, you don't have a twin.' They think it's the worst excuse."
The twins are very supportive of each other and spend a lot of time together, Dan even at one point set Jon up for a prank episode of Ashton Kutcher's Punk'd! Mormon Jon was convinced by his brother to go to a party where the women are being overly friendly and Jon catches on that this party is more of a brothel when the police come in to break up the party and "arrest" Jon! 
(© Getty Images)
We can't wait to see what the Heder twins are a part of next!