The 'American Idol' Star Is Hitched!
Katharine McPhee: She's Married To David Foster!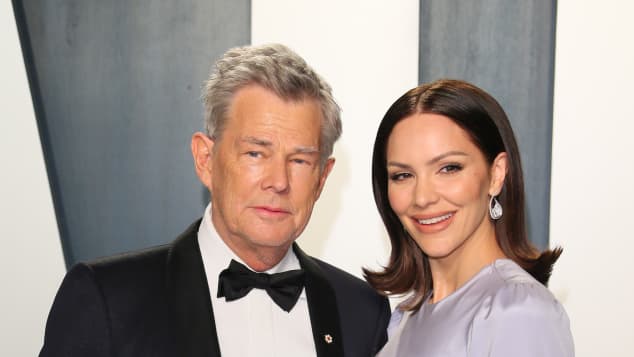 view gallery
(© Getty Images)
The American Idol runner up is married to hit-maker, David Foster! It's guaranteed you have heard tons of his songs. Maybe you've heard "I Will Always Love You" by Whitney Houston? Or what about "Unforgettable" by Nat King Cole? Yep. Both are David Foster creations.
Wow! What a couple! 
Katharine has come a long way since her time on American Idol. She has produced multiple albums and has landed roles in many movies such as The House Bunny and TV roles in Scorpion and Smash!
(© Getty Images)
American Idol Runner Up, Katharine McPhee and Grammy Winner David Foster
David Foster has a long and incredibly successful career as a music producer. He actually has won 16 Grammy Awards from 47 nominations! He's made hits for Jennifer Lopez, Michael Jackson, and Madonna, the list goes on and on! He was also famously married to Bruce Jenner's first wife Linda Thompson and supermodel Yolanda Hadid. 
(© Getty Images)
Katharine McPhee and David Foster, Destined To Be Together
David and Katharine had actually met during her time on American Idol and even worked together after her season ended but the two did not date until 2017. The pair were smitten with each other and have been inseparable ever since!
(© Getty Images)
The two married in June of last year, when Katharine was 35 and David, was 69 stirring up conversations about age-gap love, since David is twice her age. David is very open about his appreciation for Katharine's approval of his kids and adores showing her off at public events.
RELATED: These celeb couples have HUGE age gaps!  
The pair have been adorably performing together on Instagram for fans during self-isolation. Check them out here: