The queen of 30-minute meals...
Rachael Ray: What Is She Doing In 2019?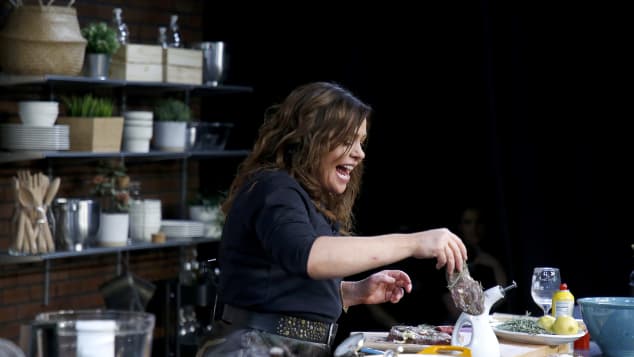 view gallery
(© Getty Images)
Without any formal culinary training, Rachael Ray grew to be an international celebrity chef based off of her fast and easy 30-minute meals. These meals were tailored for the everyday worker, those who juggled between a job and kids. Her success as a chef has only prospered... check out what Rachael Ray is up to today!
After having a series of successful television shows on the Food Network, as well as a long list of published cookbooks, Rachael Ray still hasn't slowed down her career as a celebrity chef and TV personality. The three-time Emmy award winner currently has her own show, The Rachael Ray Show, where she brings her culinary expertise forth and is joined by different celebrities to discuss their lifestyles.
This is Rachael Ray in 2019!
As an author of nearly thirty cookbooks, Ray has just released her 27th book titled Rachael Ray 50: Memories and Meals From a Sweet and Savory Life. The aim of her books are to help those who are typically reluctant to cook and inspire them with warm meals, and they're especially inspired by her Italian descent upbringing!
Rachael Ray certainly has a knack for writing about her culinary experiences, as she has her own online magazine called Rachael Ray Every Day. Aside from her books and magazines, Ray also started her own nonprofit organization in 2006, Yum-o! According to her website, the organization's goal is to "empower kids and their families to develop healthy relationships with food and cooking".
On top of all of her cooking accomplishments, Rachael has now steered into other business opportunities, like creating her own line of nutritious pet food (Rachael Ray Nutrish) and designing her own interior design line (Rachael Ray Home). You can check out more of her lifestyle tips and recipes all on her Instagram!