Adam Sandler plays the guitar
Watch: Adam Sandler's Daughters Perform Taylor Swift's 'Lover' With Their Dad On Guitar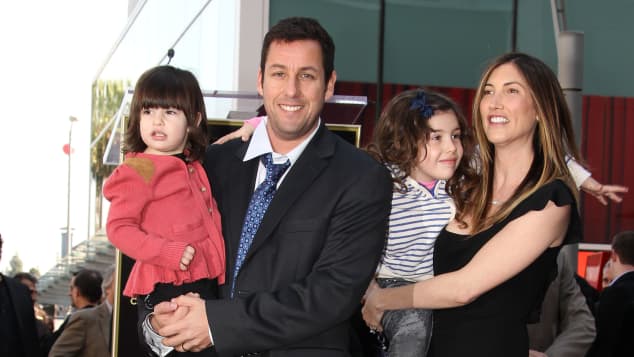 view gallery
(© Getty Images)
Adam Sandler and his daughters gave an excellent performance of Taylor's hit song Lover at Malibu's Rock4EB!'s charity event with Eddie Vedder and Judd Apatow benefiting the rare disease Epidermolysis Bullosa, The EBMRF and EBRP. We have the video below!
In videos filmed by The Hollywood Reporter's Chris Gardner, Adam played the guitar while his daughters sang Taylor Swift's new song.
"We could leave the Hanukkah lights up 'til January," Sunny and Sadie sang and then received a standing ovation. "This is our place, we make the rules."
There are many, many highlights I recorded from tonight's #Rock4EB but this one is pretty special. @AdamSandler handling guitar duties while his daughters Sunny & Sadie sing @taylorswift13 "Lover" in front of Julia Roberts, Sean Penn, etc. They're major Swifties, and so good too pic.twitter.com/Z589j4tDBJ

— Chris Gardner (@chrissgardner) October 7, 2019
A-List stars approved
Based on the social media clips, the audience that included A-list stars like Cindy Crawford, Julia Roberts, Sean Penn, Courteney Cox and Kaley Cuoco loved the surprise performance. We think it was pretty wonderful ourselves!