Taking royal precautions to avoid the illness...
Queen Elizabeth Decides Not To Shake Hands At Buckingham Palace Amid Coronavirus Outbreak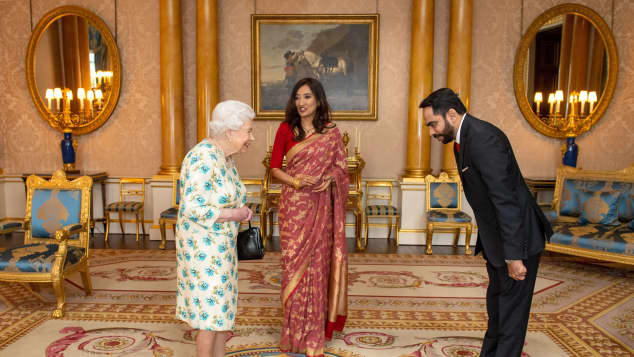 view gallery
(© Getty Images)
The worldwide outbreak of COVID-19, more commonly known as coronavirus, has made even Queen Elizabeth II take extra preventative measures. Here's what she was seen doing!
Queen Elizabeth II isn't taking any chances when it comes to the coronavirus! The queen met with Sri Lankan High Commissioner Saroja Sirisena and her husband, Dr. Sudath Talpahewa. There was something that was noticeably absent from the meeting, however... Queen Elizabeth II's traditional gesture of shaking hands with her guests!
RELATED CONTENT: Jimmy Fallon and Stephen Colbert Among US Talk Shows To Film Without Audience Due To Coronavirus
Queen Elizabeth not required to shake hands with her audience
Queen Elizabeth's decision to not shake hands with High Commissioner Saroja Sirisena and Dr. Sudath Talpahewa may have been unusual, but it wasn't in violation of royal protocol. As Entertainment Tonight has reportedly learned, handshaking is not a mandatory gesture among royals, unlike what many would assume. Instead, the greeting is a choice that ultimately comes down to the personal preference of each member of the royal family!
RELATED CONTENT: Katy Perry Has Postponed Her Wedding Due To The Coronavirus
Queen Elizabeth's cautionary measures in the midst of coronavirus
Not only did the queen avoid shaking hands with her guests on Tuesday, she also abstained from the gesture during Monday's Commonwealth Day service at Westminster Abbey. Royal reporters have said that this had more to do with the policy of the church than with the royals themselves. However, Queen Elizabeth II was also seen wearing gloves for the entire ceremony, which is something considered to be uncommon during investiture ceremonies such as this one.