This is a story you won't believe...
Netflix's 'Tiger King' Is Your New True Crime Obsession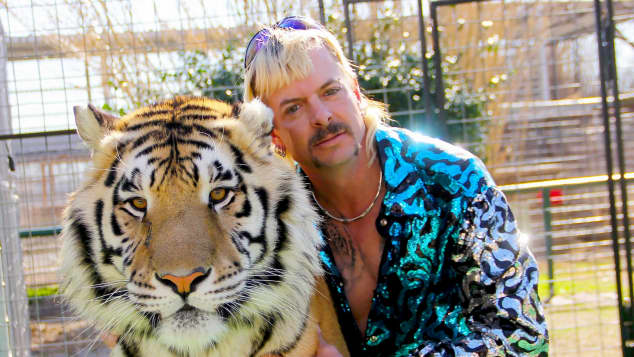 view gallery
(© Netflix)
Netflix's Tiger King: Murder, Mayhem and Madness is a true crime series like no other. It stars Joe Exotic, a "mulleted, gun-toting polygamist and country western singer" who owned over 1000 tigers. Learn more about the docuseries below...
Tiger King is a brand new seven-part docuseries on Netflix. You can start watching it today! It debuted on March 20. The true crime series centres on Joe Exotic, a polygamist country musician and big cat enthusiast. 
Tiger King turns true crime when Joe clashes with an animal rights activist and gets involved in a murder-for-hire plot. See the trailer for the incredible documentary series below.
Netflix's trailer for Tiger King: Murder, Mayhem and Madness
RELATED: The Best Netflix True Crime Shows
Netflix officially describes Tiger King as follows: "Among the eccentrics and cult personalities in the stranger-than-fiction world of big cat owners, few stand out more than Joe Exotic... Charismatic but misguided, Joe and an unbelievable cast of characters including drug kingpins, conmen, and cult leaders all share a passion for big cats, and the status and attention their dangerous menageries garner."
Another Netflix Tiger King preview with Joe Exotic
Watch Tiger King, the new documentary series about Joe Exotic, if:

– you liked Fyre
– you liked Abducted in Plain Sight
– you like shouting "HANG ON, WHAT?" pic.twitter.com/CbELUZFqFn

— Netflix UK & Ireland (@NetflixUK) March 20, 2020
RELATED! Gentefied: This Is Netflix's New Mexican American Series
The description of the series continues: "But things take a dark turn when Carole Baskin, an animal activist and owner of a big cat sanctuary, threatens to put them out of business, stoking a rivalry that eventually leads to Joe's arrest for a murder-for-hire plot, and reveals a twisted tale where the only thing more dangerous than a big cat is its owner."
For true crime fans, or viewers who just appreciate a bizarre story, Tiger King is bound to be your new obsession. It is truly a story like no other. Stream the full docuseries on Netflix today.