The Fab Five are in Tokyo!
'Queer Eye' Releases First Look At Special Season In Japan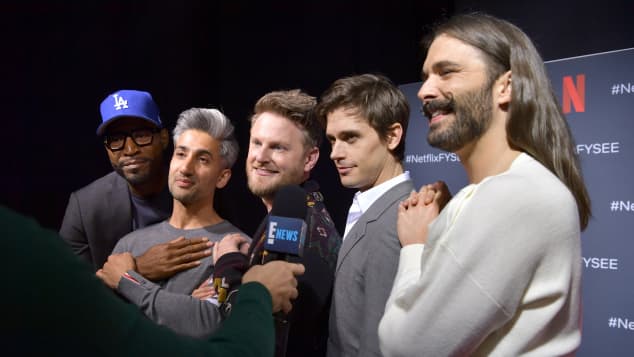 view gallery
(© Getty Images)
We only have to wait a couple of weeks to see the new season of Queer Eye, which this time will take place at the streets of Tokyo! We are sure that the upcoming episodes will be very special!
Queer Eye just released a new trailer for its upcoming special four-episode season! As always, the series will feature a team of experts in the fields of fashion (Tan France), personal grooming (Jonathan Van Ness), interior design (Bobby Berk), culture (Karamo Brown), and food (Antoni Porowski,) also known as the Fab Five, who this time will be in Japan!
The clip opens up with Tan France asking his co-stars "Are you guys ready?" in Japanese, before showing Jonathan Van Ness saying: "I cannot wait to roll up our gorgeous little gay sleeves and get this ball rolling." In the new trailer the Fab Five also appear dancing in the streets of Tokyo with their guide, model and actress Kiko Mizuhara.
What else do we know about the special Queer Eye season in Japan?
The new season will feature Makoto, a "shy radio personality" who wants to transform from "a rock to a psychedelic flower" in order to reconnect with his wife; as well as Yoko, a nurse who needs time for herself after helping other people most of her life. Later on they will help Kan, a gay young man who is dealing with the idea of introducing his family to his boyfriend; and last but not least Kae, an artist who has struggled with bullying most of her life.
Queer Eye has become a global phenomenon in the past months due to the fact that the Fab Five are always promoting personal values like self-care and compassion; this time Berk, France, Brown, Porowski and Van Ness will also get to learn local traditions in regards of cuisine, fashion, design, grooming, and culture. The upcoming season is set to premiere on November 1st.