The one where they look to the future!
'Friends' Cast Shares Where They Think Their Characters Are Now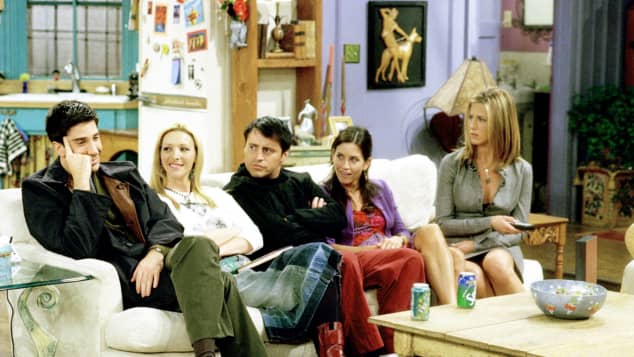 view gallery
(© IMAGO/Everett Collection)
In a new interview, the cast of Friends discussed what they think life looks like now for their iconic characters! From future careers to families, all six of the show's stars candidly shared details of what they think "Rachel," "Chandler," and the rest of the gang are up to. See what they all said here!
Friends fans don't have to wonder any longer about what their favourite characters are doing now! In a brand-new interview with Entertainment Tonight ahead of the release of the Friends reunion special, the show's cast— Jennifer Aniston, Courteney Cox, Matt LeBlanc, Matthew Perry, Lisa Kudrow, and David Schwimmer— opened up about what they see their characters' futures looking like!
Friends cast talks characters' families and occupations
Friends came to an end back in 2004 after enjoying a hugely popular 10-season run. But while the show may be over, the cast still has thoughts about what life might look like for their characters at present! While Kudrow didn't talk about "Phoebe" specifically, she said she thinks "they're all just really happy, and then they get together once in a while."
LeBlanc said he feels "Joey" would "be brain dead," which Perry agreed with, but Schwimmer thought he would "have 10 kids"! They also had differing opinions on "Chandler's" career, with Perry suggesting he would be "involved in the computer world." Instead, LeBlanc said he'd be "coaching his kid's soccer game." He also suggested that Schwimmer's "Ross" is now "running the museum, playing with the bones"— which all three guys agreed with!
Aniston expresses her excitement over Friends reunion
Friends fans also learned what the actresses think life has in store for "Monica"! Aniston said she felt that Cox's "Monica" would be a chef, while Cox instead sees her as "a competitive mom who would organize a bake sale or something." She said that while "Monica's" kids may have grown past that kind of thing, her character would "still want to make sure the bake sale goes well."
Aniston also reflected on the upcoming Friends reunion, sharing that current circumstances have factored into fans' desire to see the cast together again! Although it was originally supposed to be filmed and streamed last year, the coronavirus forced production on the project to be delayed until this spring.
The actress called 2020 "extremely heartbreaking and hard just to endure," saying that present day is "going to be an even more welcomed time for people to see it," And for those who want to watch the cast sit down and reminisce about the classic sitcom, Friends: The Reunion starts streaming on May 27!