A touching gesture from the singer!
Katy Perry Shares Her Special Baby Gift From Taylor Swift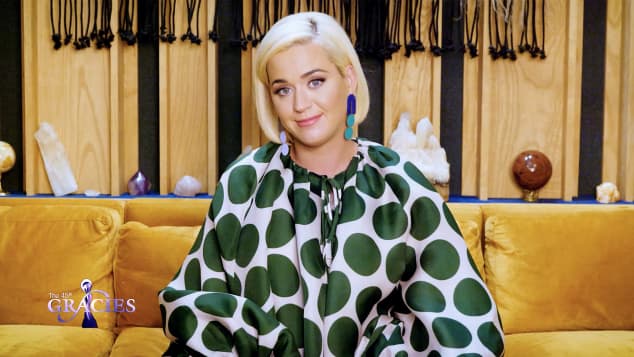 view gallery
(© Getty Images)
On Sunday, Katy Perry posted on Instagram about a special present she received from a famous friend! Perry gave birth to daughter Daisy Dove Bloom last month, and shared that Swift had sent her a special embroidered blanket along with a note. See the photo here!
Katy Perry has shared that she received a special baby gift from none other than Taylor Swift! The singer and new mom took to social media on Sunday to post a photo of the thoughtful present Swift had sent her way.
Perry was sent an embroidered baby blanket by Swift
Perry revealed that Swift had mailed her a beautiful pink baby blanket! Embroidered with the words "Baby Bloom" with flowers underneath and three stars in one corner, Swift's gift was specially made for Perry's new bundle of joy. An open envelope addressed to "Katy and Orlando (and little one)" is also featured in the picture, with a handwritten note from Swift dated May 3 peeking out.
"Miss adores her hand embroidered blankie from miss @taylorswift," Perry captioned her Instagram photo of the gift, including emojis of a daisy and dove to represent her daughter's name. "Hope it's one she drags around for years till it becomes an unrecognizable shred that she keeps in her pocket as a teenager ♥️" The pop star also set her Instagram location for the post as "Stream Folklore," encouraging her fans to listen to Swift's new album!
(© Getty Images)
Perry and Swift on good terms after "feud" came to an end
Perry and Swift weren't exactly close at one time, and for years it seemed like there was "Bad Blood" between the two singers! However, Perry recently shared why she and Swift decided to publicly put an end to their feud, explaining that she felt it was important for fans— especially young girls— to see the stars come together. Perry even made an appearance in one of Swift's music videos last year!
In August, Perry and her fiancé Orlando Bloom gave birth to their first child together— daughter Daisy Dove Bloom. Prior to the birth of her daughter, Perry talked about how she was looking forward to raising her baby girl. Swift wasn't the only celeb to send Perry a present for her new bundle of joy! As People mentions, Beyoncé, Lionel Richie, and Ryan Seacrest all sent her gifts as well. We're glad to see the friendship between Perry and Swift continue to bloom!