Hugh Finally admits the reason
Hugh Grant's 1995 Arrest: Why He Cheated On Elizabeth Hurley With Sex Worker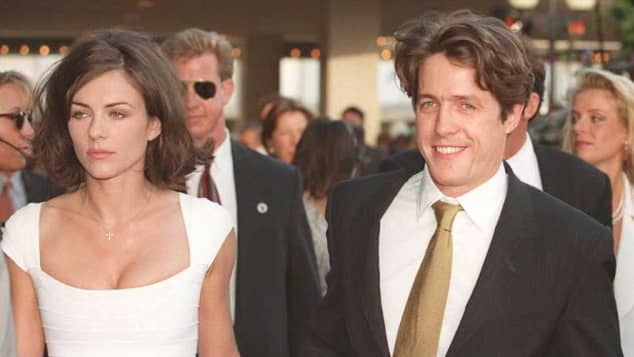 view gallery
(© Getty Images)
Hugh Grant shocked Hollywood when he was arrested in 1995 for sex acts with sex worker Divine Brown. Not only was the arrest and mug shot on every headline but also the status of his relationship at the time with gorgeous Elizabeth Hurley! Now, 25 years later, Hugh is finally explaining why he did what he did.
Hugh Grant and Divine Brown's mug shots were on the cover of every tabloid on June 27th, 1995. Less than a month later he and his longtime girlfriend model and actress Elizabeth Hurley hit the red carpet together. Why did Hugh cheat on the brilliant bombshell? And why did they stay together? Now Hugh is giving the answers.
Why Hugh Grant Cheated On Elizabeth Hurley With Sex Worker
60-year-old Hugh Grant opened up on Marc Maron's WTF Podcast about his big 1995 scandal. Fans everywhere were shocked to hear Hugh cheated on his gorgeous long-term girlfriend Elizabeth Hurley. According to Hugh, he had felt disappointed after watching his performance in the Hollywood film Nine Months. 
"I was about to launch my first Hollywood film. My timing was impeccable. My problem was, that was my first Hollywood film and I'd just been to see it. The film was about to come out a week or two after that, and I had a bad feeling about it. I went to see a screening. Everyone in it was brilliant, but I was so atrocious that I was not in a good frame of mind."
Hugh had felt his performance was a disappointment compared to his co-stars Julianne Moore, Joan Cusack, Jeff Goldblum, and Robin Williams. Hugh had the starring role as child psychologist "Samuel" whose girlfriend "Rebecca" (Julianne Moore) becomes pregnant before "Samuel" feels ready to be a father.
Dejected Hugh went to soothe his anxiety with alcohol after the screening. "I had a Ken Russell kind of lunch... and one thing led to another. I just was disappointed in myself. I don't know what was going on. It was called Nine Months."
"The film did alright at the box office, in fact, I think it did quite well, and that's all Hollywood really cares about." Hugh was correct, the film reached #3 at the US box office and earned $138.5 million around the world.
Unfortunately, before the film had officially premiered he was caught committing "lewd acts" with sex worker Divine Brown in his car. He was then arrested by the Los Angeles Police Department, sentenced to pay a fine of $1,000, and had to take an AIDS education course. Divine on the other hand had to serve 180 days in prison for her prostitution charge. 
According to Daily Mail, Hugh released a statement the next morning saying, "Last night I did something completely insane. I have hurt people I love and embarrassed people I work with. For both things, I am more sorry than I can ever possibly say."
Elizabeth Hurley stayed with Hugh after the scandal and even attended the Nine Months premiere with him the next month, although she wore a fixed frown. The pair officially broke up 5 years later in 2000 after 13 years together. Luckily, they have stayed good friends and Hugh even became her son Damien's Godfather! Damien's father is the businessman Steve Bing who tragically took his life last year. 
When being interviewed by Jess Cagle a few years ago he explained why Hugh and Elizabeth have such a close bond even though they are no longer together. "I think it's partly because we went from zero to somewhere together. We went through terrible years at the beginning when neither of us had any work, living in a tiny flat. It was quite bonding."
When he came clean to Elizabeth he said: "I was just an idiot. I didn't try to say, 'I've got this psychological problem.' I just said, 'I did it.'"