Has the President seen the Netflix hit?
'Tiger King': Donald Trump Says He'll "Take A Look" At Pardoning Joe Exotic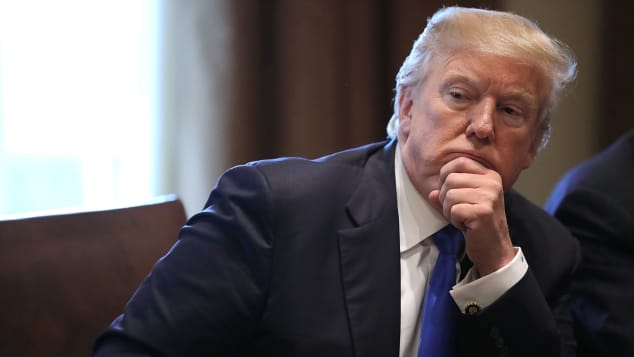 view gallery
(© Getty Images)
During his Wednesday press conference, US President Donald Trump was asked about pardoning Joe Exotic, the main figure of Netflix's Tiger King. Hear Trump's response to the question below...
Joseph Maldonado-Passage (AKA Joe Exotic) is currently serving a 22-year prison sentence for the attempted murder of animal rights activist Carole Baskin. Their feud was chronicled in the recent Netflix docuseries Tiger King.
The wildly popular show made its way into the White House pressroom on Wednesday, when a reporter questioned President Trump about Joe Exotic's request for a pardon. 
RELATED: Carole Baskin Will Not Appear in Rumoured 'Tiger King' Reunion Episode
Tiger King: Donald Trump weighs in on Joe Exotic
Reporter Steven Nelson introduced the topic to the President by way of a reference to the high ratings held by both the COVID-19 press conferences and Tiger King.
He then said, "Your son yesterday jokingly said that he was going to advocate for [Joe Exotic's pardon], and I was wondering if you'd seen the show and had any thoughts on pardoning him?"
Trump first had to clarify which of sons made the comments. The reporter confirmed it was Donald Trump, Jr.
"I had a feeling it was Don," the President said. But Trump hasn't gotten around to watching Tiger King yet, it seems.
"I know nothing about it. He had 22 years for what? What did [Exotic] do?"
"I'll take a look," Trump said, after the reporter summarized Exotic's crimes. View the full exchange below.
Netflix's Tiger King reaches the White House
When asked if he would pardon Joe Exotic, the incarcerated star of the Netflix documentary series "Tiger King," Pres. Trump says he "knows nothing about" it, but will "take a look." https://t.co/neRtDMrRZT pic.twitter.com/SyrDJ7R8DK

— CBS News (@CBSNews) April 8, 2020
RELATED: Harry & Meghan Respond to Trump Saying He Won't Pay for Their Security
The reporter who asked the question later faced backlash online for bringing it up during a COVID-19 briefing.
Time will tell if the President eventually jumps into the Tiger King craze. Some have even compared the Joe Exotic-Carole Baskin feud to the infamous rivalry between Trump and Hilary Clinton.